Maximising Overall Equipment Effectiveness (OEE)
Maximising Overall Equipment Effectiveness (OEE) to build a strong business with healthy margins
With margins in metal manufacturing under constant pressure, an active equipment management strategy to improve the core Overall Equipment Effectiveness (OEE) metrics of availability, performance and quality can help operators realise their lean ambitions and turn losses into profits. Norican Group shares insights from customers and foundry owners that have yielded productivity gains by implementing strategic, highly proactive equipment management programmes focused on eliminating downtime, reducing scrap and slashing waste to enhance OEE.
Properly maintaining and upgrading plant equipment maximises uptime, expands functionality and extends the working life of machines while avoiding the huge capital cost of buying brand new equipment.
In this era of rapid innovation, flexible maintenance partnerships, digital remote access and expert training, there are many further opportunities for companies to improve equipment management.
Adopting a strategic, aligned approach that covers every piece of installed machinery and identifies the opportunities to improve productivity, quality and resource control while mitigating risks means it is possible to improve equipment performance, move closer to long-term OEE goals, increase overall profitability, and ultimately keep your customers satisfied.
Combat mechanical wear – unlock savings and performance gains
Machine deterioration is a fact of life. Heat, wear, dust, perishable parts, constant motion and many other factors all combine to take their toll on industrial equipment. However, this physical degradation has another – unseen – effect on the motivation of production managers and staff to plan proper maintenance. Knowing that the battle against wear can never be completely won can make some engineers and operators curtail their efforts to protect machines. The result is poor availability. As Jake Higley, Titan UK's Lean Manufacturing Manager, explains:
"The original view of the team was that shot blast machines self-destruct no matter what, and there really is no point trying to change that. So the challenge for me was to prove them wrong and show them that shot blast equipment can be kept in good condition almost indefinitely."
Across Norican Group, machine maintenance programmes and aftermarket services, such as refurbishments, retrofits, regular service packages and Equipment Modernisation Programmes (EMPs), are helping customers to improve availability, performance, quality and overall OEE. This is evidenced by real savings and performance gains.
Delivering 40% efficiency improvements
One example is StrikoWestofen's upgrade of a 17-year-old StrikoMelter for the Česká zbrojovka foundry in the Czech Republic. The results of the enhancement exceeded all expectations, bringing energy consumption down by 20% and improving melting performance by 40%. Full return on the investment took less than a year.
Though some machine components are susceptible to wear, the main structure of a machine is built to last for decades. This means repair, retrofitting or upgrading are almost always possible. An EMP completed in just a week by Wheelabrator for the CMB branch of China Metal International Holdings Inc in Suzhou City, doubled the capacity of a trusted machine and increased its efficiency by 40%.
The perfect lift for existing machines
Innovation in equipment hardware and data-driven optimisation can deliver significant performance improvements. They don't just achieve the machine's initial production performance but exceed it whilst also improving energy consumption. "Die casting machines last decades, which is a long time to wait if operational challenges occur or your production needs change", says Carlo Scalmana, President of Italpresse Gauss. "Rather than waiting until you need a new machine, modernisation and upgrade programmes can take an existing machine, improve its performance, and retrofit it with the latest innovations to make it truly state-of-the-art."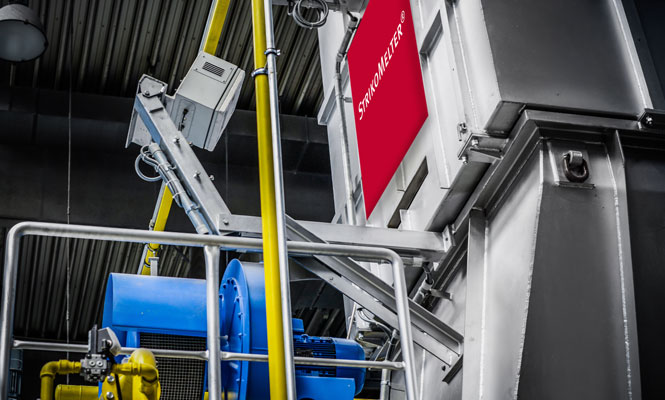 An EMP programme can breathe new life into existing machines that have long since repaid their initial investment while improving resource control at the same time. By opting to have four 15-year-old StrikoMelters from StrikoWestofen relined and upgraded, Skoda Auto managed to reduce energy consumption at its Mladá Boleslav site in the Czech Republic by 10%.
"The continuous filling of the shaft made possible by the integrated laser scanner has increased the energy efficiency to the point where we are able to reduce gas consumption by around 10% per system", explains Holger Stephan, VP AM Sales Support at StrikoWestofen. "The laser scanner is one of today's most frequently applied modernisation options, making it one of our bestsellers."
Improvement isn't limited to the very latest, cutting edge innovations. Directly replaceable next-generation parts can also have a transformational effect on OEE as Chief Process Engineer at AVK, a Wheelabrator customer, Leszek Rogacz relates.
"We initially contacted Wheelabrator to ask them to upgrade the wheels on our oldest machine. The new TITAN wheels surpassed our expectations. Not only has our parts sourcing become more steady and straightforward, which allows us to plan maintenance better and reduce downtime, but the significant reduction in cycle time has given us more production capacity as well. With results like that, it was just common sense to ask Wheelabrator to replace the wheels on one of our other machines too."
Real-time operational oversight – a real opportunity
Foundries and production plants are currently undergoing a digital revolution, one that legacy machines can join too. Across Norican Group, intelligent control systems are being developed that can bring digital transformation to existing equipment. By gathering data and overseeing machines and processes, high-tech digital innovations such as the DISA RMS (Remote Monitoring System), HMe from Italpresse Gauss and pipeline developments from Norican Digital keep a tight grip on productivity, quality and resource control. Offering improved control, real time oversight, reduction of unplanned maintenance and downtime, minimised error margins and new data insights, such systems transform operations and help operators reach previously unattainable productivity highs.
The DISA RMS for example can be retrofitted onto existing equipment during an EMP or upgrade, with the remote monitoring service alerting foundry staff to production issues before they become serious. This helps to optimise process performance and minimise the risk of downtime without the need for a regular engineer visit. The CEO of German family-owned foundry Ortrander Eisenhütte, Bernd H Williams-Boock says:
"Since the installation of our DISA RMS, we now have an inside-out view on all of our three DISA machines. This is contributing remarkably to increase the efficiency of our maintenance resulting in a more smooth daily production and with less unplanned downtime."
Italpresse Gauss President Carlo Scalmana notes that when undertaking an EMP or upgrading a machine's electrical circuitry, "there is an opportunity to install the new HMe system. This smart and powerful tool enables the storage and real-time monitoring of large amounts of die casting data to help unlock production insights and efficiencies, and comes with an intuitive, user-friendly interface."
Watch a video on how HMe was born
Nurturing machinery to ensure it performs at its best for decades doesn't begin or end with an EMP or retrofitting the very latest innovations. Periodic, pre-organised service checks support efficient day-to-day operations, freeing up engineering and operational staff to conduct timely shutdowns, plan workloads and focus on other higher value tasks, all while knowing failure risks have been minimised.
Ideally, OEM service engineers should visit regularly to carry out maintenance and servicing or to replace critical wear parts to keep performance, quality and availability as high as possible. Across Norican Group, the four technologies offer service packages involving scheduled visits. The benefits are clear and proven. Commenting on his company's ongoing Wheelabrator servicing relationship, Robert Morris, purchasing manager at Titan Steel Wheels, says:
"From an operational perspective, the predictability we've now got is hard to beat. We know who's coming in and when; we always know where we're at with each machine and the regular visits from Wheelabrator are a safety net that has restored our confidence in our own production timescales. We've never had this level of reliability with our blast machines, and major disruptions to production were a constant possibility.
Morris continues, "The programme we've developed with Wheelabrator represents a very grown-up approach to maintenance, removing uncertainties and risk from our operations and putting us back in control. Our shot blast operation now is the most efficient and has the highest productivity in the Titan Europe group."
Machine-specific training is another significant factor in that can have a transformational impact. Beyond building up the skills of foundry workers and engineers with maintenance-level, inner-working knowledge that they can use every day, training turns the foundry workforce into a highly-informed first line of defence and emergency response unit. This higher level of staff understanding makes it easier for OEM technicians to guide operatives during a critical fix and can reduce the number of costly call-outs. A proactive equipment management strategy has to include training which is why every Norican Group technology provides expert technical training that can be delivered on site.
Connected, flexible support – wherever you are
Adopting a strategic, proactive and responsive management approach that takes the business closer to maximum OEE can be challenging. For example, if machine systems can't communicate with each other, gaining system-wide oversight and keeping track of each machine's respective task, supply and maintenance status will be difficult. Even seemingly simple tasks such as ordering parts can mean hours on the phone calling multiple suppliers.
For this reason, Norican Group has created a complete, highly-integrated aftermarket support network underpinned by extensive global infrastructure. By bringing machinery and maintenance expertise together, experts can be at your side during every step of the manufacturing process, from parts formation and preparation right through to finishing – wherever you are in the world. With 2,700 staff in 50 countries, Norican Group offers technical breadth, local language ability and extensive parts stock to fully support 40,000-plus machines operating in the field.
Contact Us
Please complete the form
Find your nearest contact
If you would prefer to speak to someone directly, click below to find a phone number / address for a representative in your country.